Socks Proxy Checker
Warning
: fopen(/srv/users/serverpilot/tmp/ppssppmaster-com/phpfastcache/ppssppmaster.com/Files/88/39/8839827daa29aefe40c5f6666c736520.txt): failed to open stream: No space left on device in
/srv/users/serverpilot/apps/ppssppmaster-com/public/system/libraries/phpfastcache/vendor/phpfastcache/phpfastcache/src/phpFastCache/Core/Pool/IO/IOHelperTrait.php
on line
304Warning
: fwrite() expects parameter 1 to be resource, boolean given in
/srv/users/serverpilot/apps/ppssppmaster-com/public/system/libraries/phpfastcache/vendor/phpfastcache/phpfastcache/src/phpFastCache/Core/Pool/IO/IOHelperTrait.php
on line
305Warning
: fclose() expects parameter 1 to be resource, boolean given in
/srv/users/serverpilot/apps/ppssppmaster-com/public/system/libraries/phpfastcache/vendor/phpfastcache/phpfastcache/src/phpFastCache/Core/Pool/IO/IOHelperTrait.php
on line
306Warning
: fopen(/srv/users/serverpilot/tmp/ppssppmaster-com/phpfastcache/ppssppmaster.com/Files/88/39/8839827daa29aefe40c5f6666c736520.txt): failed to open stream: No space left on device in
/srv/users/serverpilot/apps/ppssppmaster-com/public/system/libraries/phpfastcache/vendor/phpfastcache/phpfastcache/src/phpFastCache/Core/Pool/IO/IOHelperTrait.php
on line
304Warning
: fwrite() expects parameter 1 to be resource, boolean given in
/srv/users/serverpilot/apps/ppssppmaster-com/public/system/libraries/phpfastcache/vendor/phpfastcache/phpfastcache/src/phpFastCache/Core/Pool/IO/IOHelperTrait.php
on line
305Warning
: fclose() expects parameter 1 to be resource, boolean given in
/srv/users/serverpilot/apps/ppssppmaster-com/public/system/libraries/phpfastcache/vendor/phpfastcache/phpfastcache/src/phpFastCache/Core/Pool/IO/IOHelperTrait.php
on line
306Warning
: fopen(/srv/users/serverpilot/tmp/ppssppmaster-com/phpfastcache/ppssppmaster.com/Files/88/39/8839827daa29aefe40c5f6666c736520.txt): failed to open stream: No space left on device in
/srv/users/serverpilot/apps/ppssppmaster-com/public/system/libraries/phpfastcache/vendor/phpfastcache/phpfastcache/src/phpFastCache/Core/Pool/IO/IOHelperTrait.php
on line
304Warning
: fwrite() expects parameter 1 to be resource, boolean given in
/srv/users/serverpilot/apps/ppssppmaster-com/public/system/libraries/phpfastcache/vendor/phpfastcache/phpfastcache/src/phpFastCache/Core/Pool/IO/IOHelperTrait.php
on line
305Warning
: fclose() expects parameter 1 to be resource, boolean given in
/srv/users/serverpilot/apps/ppssppmaster-com/public/system/libraries/phpfastcache/vendor/phpfastcache/phpfastcache/src/phpFastCache/Core/Pool/IO/IOHelperTrait.php
on line
306Warning
: fopen(/srv/users/serverpilot/tmp/ppssppmaster-com/phpfastcache/ppssppmaster.com/Files/a3/a0/a3a0f9adbccec368b96eb191118b7ef3.txt): failed to open stream: No space left on device in
/srv/users/serverpilot/apps/ppssppmaster-com/public/system/libraries/phpfastcache/vendor/phpfastcache/phpfastcache/src/phpFastCache/Core/Pool/IO/IOHelperTrait.php
on line
304Warning
: fwrite() expects parameter 1 to be resource, boolean given in
/srv/users/serverpilot/apps/ppssppmaster-com/public/system/libraries/phpfastcache/vendor/phpfastcache/phpfastcache/src/phpFastCache/Core/Pool/IO/IOHelperTrait.php
on line
305Warning
: fclose() expects parameter 1 to be resource, boolean given in
/srv/users/serverpilot/apps/ppssppmaster-com/public/system/libraries/phpfastcache/vendor/phpfastcache/phpfastcache/src/phpFastCache/Core/Pool/IO/IOHelperTrait.php
on line
306
ppssppmaster.com -Socks Proxy Checker Socks Proxy Checker is a socks software to check socks5/4 proxy in details. It can also download socks proxy from My-Proxy.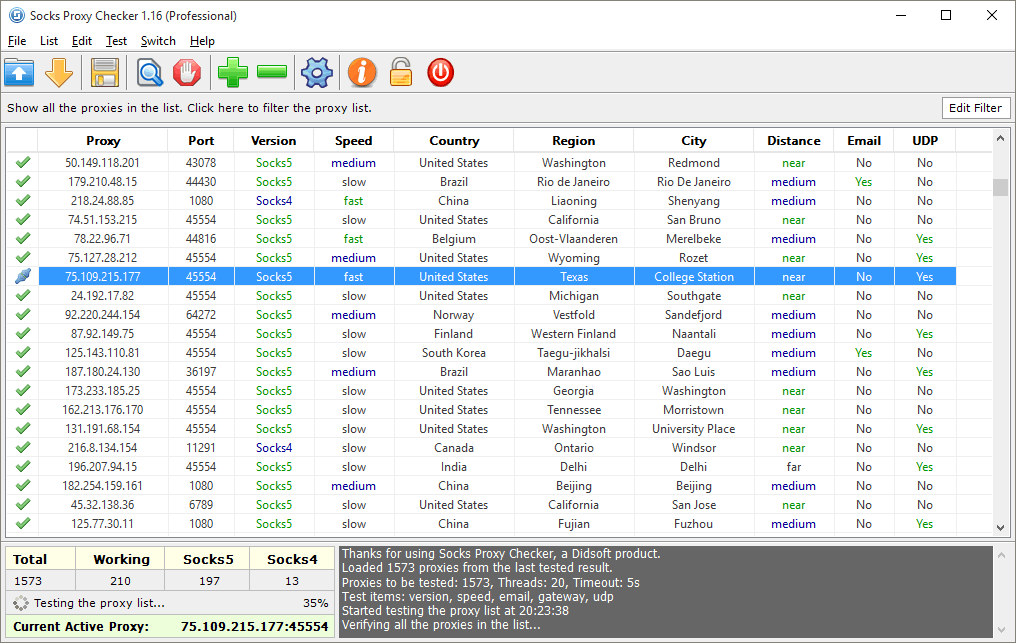 DownloadSource: regulationsreference.weebly.com
Socks Proxy Checker help document. User Interface of Socks Proxy Checker. Main Window. The main windows contain the socks proxy list and the details (speed, version, gateway, smtp, danger, country and UDP feature) of them.
Socks proxy checker: buy socks list, free and anonymous .... Socks proxy checker. Here you can check socks proxies for: - alive - anonymity - security. If socks proxy doesn't work, try again a bit later
Online proxy checker: online check http and socks proxy .... Multithreading proxy checker. Our checker supports multithreading that helps increase checking speed & decrease waiting time.
Socks Proxy Windows, Socks Proxy Server List, Socks Proxy Checker, Socks Proxy Checker Professional Crack, Socks IP List
Galleries of Socks Proxy Checker